RE/MAX Lakeshore Realty Inc. Brokerage
Independently Owned and Operated
Welcome Message from Michael
I would like to first thank you for visiting my website. You will find a variety of information that will be able to help you in making that decision to sell your current home, or purchase your dream home. I make myself available 24 hours a day, because customer service isn't a word to me, it's a way of life. When my clients are satisfied so am I. Once again welcome, and please contact me whenever is most convenient for you.
Sincerely,
Michael Cortesis
Satisfaction Guaranteed
When you make the important decision to buy or sell a home, I am committed to going the extra mile to ensure that all of your needs are successfully met in a professional and honest manner. For Service and Commitment, let me help guide you with your next purchase or sale.

At Your Service
I make myself available at all times. My web site is here to help you 24 hours a day. You can search listings at your own convenience, browse reports, and read up on real estate info on your own terms. When you are ready to see a listing in person, or just have a simple question, please don't hesitate to contact me!
---
Thank you for an AMAZING 10 years!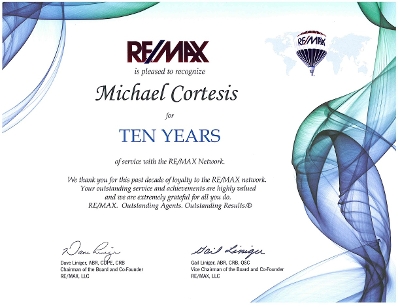 ---
Thank you for selecting me as the 2015 People's Choice Awards for
BEST REAL ESTATE AGENT!
---
"Singin' In The Rain"
I am so honoured to have been one of the sponsors for the "Singin' In the Rain" theatre held by the Capitol Theatre in Port Hope. Opening night was spectacular and I urge you to purchase a ticket and see this show! Tickets are selling fast. Another wonderful production put on by the Capitol Theatre. We are so lucky to have this gem in our community.
---
Thank you to my wonderful Clients for a fantastic evening last night! As a thank you to everyone, I held a Client and Friends Appreciation Event at the Capitol Theatre in Port Hope. We were entertained by the Christmas Belles show, what a fantastic show that was. I truly appreciate and value each and everyone of you. Have a very Merry Christmas from my family to yours.
- Michael
Recently I was chosen to film an episode of "Income Property" with Scott McGillivray! What a fantastic day it was. It truly was an honour to meet Scott. Stay tuned for the air date of the episode!
---
Video testimonials have been added to the testimonial section of my website. Be sure to check it out!
---
We just held our 2013 Client Appreciation Event and it was a fantastic day. Michael sponsored the band PHLO to put on a private concert for his past and present clients. What a great way to kick off the holiday season.
Thank you to all those who attended!
---
I had the pleasure of assisting a local couple increase the value of their home for the popular television series "Til Debt Do Us Part". If you would like to see the tips I gave this couple, please view episode 95 where I was featured giving some useful and inexpensive advice! www.slice.ca
---
Thank you for your confidence in selecting me two years in a row as the
People's Choice Award for Best Realtor 2009
Thank you Northumberland!!!
---
I was recently awarded the honour of Northumberland Businessman of the Year for 2008 & Realtor of the Year for 2008. Thank you to all those who voted for me!
I was personally invited by Ms. Ivanka Trump to join her for lunch in Toronto for the information session about newly built condominiums in Chicago.
Cobourg Waterfront Festival June 28 - July 1
I was at the 2008 Cobourg Waterfront festival showcasing clients homes and properties. Thank you to all that came over to visit!
- Michael